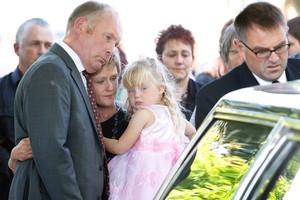 Andrew Craig will always be known as the driver of bus No 702 who helped passengers trapped by the Christchurch earthquake, his funeral was told yesterday.
The 46-year-old was killed when his Red Bus was crushed by falling masonry in Colombo St during the magnitude-6.3 earthquake.
Yesterday, family, friends and colleagues remembered him as a fast-talking "hard case" who loved op-shops and the Riccarton Market.
Parked outside the church where his funeral service was being held were Red Buses Nos 701 and 703.
Friend Nick Downs said Mr Craig had been in the wrong place at the wrong time.
He told mourners no one would know exactly what happened that day but it appeared a building collapsed on to the bus and Mr Craig stayed behind to help trapped passengers.
"We know he helped everyone off the bus. He was the last one off bus No 702."
After seeing the wreckage, Mr Downs said, "I'm amazed anyone got out at all".
"Andrew will always be known as the driver of bus 702."
Mr Downs recalled a time when Mr Craig stopped his bus to help a disabled boy who was being picked on. He took him home in his bus and was having a cup of tea with the boy's grateful mother when the police arrived.
"He asked them if they were looking for a little boy and they said yes ... and a bus."
Unknown to him, police officers and dogs had been searching for them - because in the back of the bus was an elderly couple holding hands who had got a longer ride than they had expected.
Family friend Russ Lewis said Mr Craig lived by himself in the suburb of Waltham and loved to go to the Riccarton Market.
"He was known as one of the best op-shoppers. Buying clothes was undoubtedly one of his favourite pastimes. He also collected model cars and planes."
Mr Lewis said regular passengers would often see Mr Craig stop at a fruit and vegetable shop while driving on the Upper Riccarton bus route.
"We can only hope and pray that no matter where he be headed, he will find his Red Bus to drive, his fruit and vege shop to get his bargains, an op-shop and, please God, let there be a Riccarton market."
Fellow bus driver Ken Edwards was in the bus behind Mr Craig's that narrowly avoided the falling debris.
He told the funeral he had been in the "right place at the wrong time".
He was there when Mr Craig was rescued and watched as he was carried to a Land Rover to be driven to hospital.
"Now I'm getting nightmares every day. I will never forget Andrew for all the help and all the things he's done for me over the years."