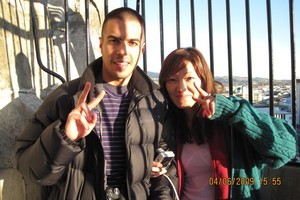 Here are some of the stories of people yet to be accounted for
MIKI HAYASAKA
Miki Hayasaka is believed to have been in the CTV building when it collapsed in last week's quake.
The 37-year-old was on her second trip to New Zealand to study English and broaden her job prospects as a nurse.
Her friend Isaac Savage said Ms Hayasaka was an outgoing woman who was a teenager at heart and had many friends.
"She hung out with young people, she was the life of the party."
He said Ms Hayasaka loved New Zealand's environment and laid-back lifestyle.
But he is starting to lose hope that she will be found alive.
"Miracles do happen. I'd love for something like that to happen, it would be amazing.
"I'm optimistic but I've got to be real, a week after with no food and water ... "
Other friends of Ms Hayasaka have left heartfelt pleas on her Facebook page, asking her to let her friends know that she is alive.
Se Young Cha said he did not believe Ms Hayasaka was in the school when the quake happened.
"u r just travelling around south islands at this moment ... right? and after finish travelling u will say "i'm back~!" right??? and we r gonna drink a bottle of riesling which is ur favorite ... "
RIKA HYUGA
Rika Hyuga loved to play soccer; her favourite team was Manchester United.
The 30-year-old Japanese student is listed as missing in the CTV building.
Miss Hyuga, who lives with a Kiwi family in Christchurch, is a student at the King's Education language school, on the third floor of the building.
Apart from a text message she sent to friends shortly after the quake struck, she has not been heard from since.
A friend of hers, Sumika Sato, wrote on her Facebook page, "Just wait and pray", after earlier posting a message on the internet pleading for anyone to come forward with information regarding her friend.
Miss Hyuga grew up in the suburb of Chofu, in Tokyo.
DESLEY THOMSON
Friends and family of Desley Thomson have been asking anyone who may have seen her last Tuesday to come forward.
It is believed the St Albans resident was on her lunch break in the CBD when the earthquake struck.
No one has seen or heard from her since.
Ms Thomson's friends and family have been distributing messages on websites such as Facebook asking for anyone who may have seen her in town to get in touch.
It is not known exactly where in the CBD Ms Thomson was at the time of the quake.
Her sister, Amy Thomson, wrote on a website that Desley would have been wearing a gold bangle.
Yesterday, Amy Thomson politely declined to comment about her sister.