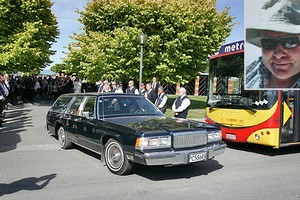 Bus driver Andrew Christian Ross Craig helped all the passengers off his bus, crushed by debris from a fallen building, before he got out himself, mourners at his funeral were told today.
The Sumner-Airport bus Mr Craig, 46, was driving was in Colombo St when last Tuesday's devastating quake struck.
He died of his injuries in hospital two days later.
"We will never know exactly what happened on February 22 at 12.51 [when the earthquake hit]," Mr Craig's friend Nick told mourners at Kerrs Road Chapel in Linwood today. "But we know he helped everyone off the bus. He was the last one off bus number 702."
As bus numbers 701 and 703 sat outside the chapel this afternoon, Nick said: "Andrew will forever be known as the driver of bus 702."
Nick, a firefighter, said he met Andrew 20 years ago when they were both members of the Hanmer Springs Volunteer Fire Brigade.
"Andrew, being Andrew, whenever he met me he wanted to talk about firefighting," said Nick. "It's all he wanted to speak about."
Russ Lewis, speaking on behalf of Mr Craig's family at the funeral this afternoon, said Andrew was born on October 5, 1964 in Nelson and grew up in Hanmer Springs. He had a diploma in horticulture from Lincoln University and joined the Red Bus company in 2000.
"We know he very much enjoyed being a bus driver," said Mr Lewis. "It suited the kind of person he was. He used to stop his bus so customers could buy fruit and veges with him."
Mr Craig lived alone in the suburb of Waltham and loved to go to the Riccarton market, said Mr Lewis.
"He was known as one of the best op shoppers. Buying clothes was undoubtedly one of his favourite pastimes. He also collected model cars and planes."
Red Bus chief executive Paul McNoe told the mourners Mr Craig was professional and reliable.
"Andrew was the sort of employee that every bus company wants," he said. "He seemed to collect facts and wanted to share them all. Andrew will be sorely missed."
Next to speak at the funeral was Ken, the bus driver who was behind bus 702 when the quake hit but who, along with his passengers, escaped unharmed.
Ken said he was struggling to cope since the tragedy.
"I happened to be at the right place at the wrong time," he said. "Now I'm getting nightmares every day. I will never forget Andrew for all the help and all the things he's done for me over the years."
Bagpipes played Amazing Grace as Mr Craig's coffin was carried out, while his fellow bus drivers formed a guard of honour.