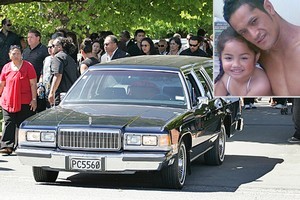 A funeral service full of music and prayer was held this afternoon to celebrate the life of Christchurch earthquake victim Jeff Pelesa Sanft.
Sanft, 32, was on one of two buses - going through St Asaph and Colombo Sts respectively - crushed by falling debris during the February 22 quake.
It's not known which of the buses Mr Sanft was on, but his injuries proved too severe and he died in hospital.
This afternoon Jeff's uncle Noel Sanft told the large gathering at Kerrs Chapel in Linwood that Jeff's passing was a huge shock for the family.
"No one could imagine this is the time for this young man to go."
Jeff was born in Samoa but later moved to Christchurch and went to school in Linwood. He was well known in rugby league circles.
His uncle said everything Jeff did was for his family, but especially "his two princesses" Hazel, 4, and Olive, 2.
"His life revolved around Hazel and Olive."
Another one of Jeff's uncles, Eric Smith, said Jeff was a talented artist and had a great love of music.
His partner said they had been together for 11 years. They were due to get married at a registry office but he said not to tell anyone. "I am now finding the strength for myself and my two girls."
Rapper Scribe pays tribute
Over the weekend, his rapper cousin Scribe spoke of his grief at Sanft's death - and how a last-minute decision to stay at home saved his life.
The rapper posted on Twitter how he was about to take a bus with Sanft, saying: "Was supposed to catch the bus with my cousin who I live with but pulled out last minute.I love you Jeff RIP.See you when I get there.xxx"
Scribe's cousin, the singer Ladi6, said: "Rest in Peace Jeffy ... I will always remember you with love My love goes out to the Sanft and Smith famalies."
Facebook, online tributes flow
Jeff's family and friends last week paid Facebook tributes to a man who grew up in Christchurch and was well known in rugby league circles.
Brother Laki Sanft said on his Facebook page: "Still speechless. G, I miss you so bad!"
Many friends conveyed their shock at learning of Mr Sanft's death, one woman saying she had even seen him walking through town minutes before the quake.
Most of Mr Sanft's photos show a smiling little girl - his daughter.
One picture, of Mr Sanft cuddling her, has become like a shrine, people leaving messages of sympathy to the Sanft family.
One friend says: "All our love to the Sanft aiga [family]. He will eternally be in our hearts. R.I.P uso [brother]."
Another reads: "You will forever be in our hearts, cherished and loved. Until we meet again our cuzzie."
- NZ Herald staff