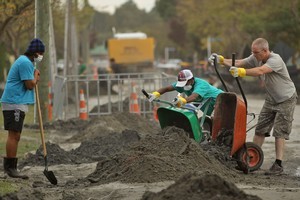 Former Black Cap Nathan Astle is confident Christchurch will be rebuilt and back to where it should be following last week's 6.3 earthquake.
Christchurch resident Astle, who played 81 tests and 233 ODIS for New Zealand, says despite the massive damage across the city he'll be staying put.
"It's obviously pretty devastating for the people, and myself who was born and bred here and won't be moving out of here, that the city is in the state it is," he said.
"We will rebuild it and get it back to where it should be.
"From my point of view I'm just thankful that my family, immediate and associated family, were well and good. But obviously our thoughts are massively out there with the people who have lost loved ones in what was a horrific disaster."
When the earthquake struck last Tuesday Astle was at the Kiwi Kids childcare centre, west of the city in Hillmorton, which he runs with his wife Kelly.
"It was pretty unnerving but the teachers and the kids were outstanding.
"They were pretty calm to be fair...and then about half and hour after we had a rush of parents coming in to pick up their kids.
"Obviously a lot of them were upset but they calmed down when they found their little ones were safe and sound.
"I think we had 85 kids here at the time so that's a fair few people and parents ... but everyone's accounted for."
Astle said the preschool suffered no damage but it will remain closed until further notice.
- NZ HERALD ONLINE