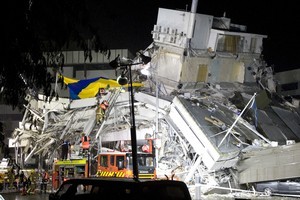 Search and rescue at the devastated Pyne Gould Corporation building in central Christchurch paused work early this morning for an emotional karakia, police say.
Police Superintendent Russell Gibson told Radio New Zealand that a British contractor at the site had suggested a karakia - or Maori prayer - to give strength to workers.
Mr Gibson said staff took five minutes out for the "lovely ceremony" at 5.30am.
"There were quite a few tears shed and when that finished they went back to work."
Mr Gibson said many of the personnel had missed yesterday's two minutes' silence for the victims of last Tuesday's 6.3 magnitude earthquake because they worked nights but had wanted to pay tribute.
"I think it was their way of reflecting on the horrendous job that they had been doing."
Rescuers at the site still hoped to find survivors, he said.
"There's always hope - they live on that - but the reality is it fades."
Police believe the death toll could reach 240 but say it might not be possible to recover all of the bodies from among the ruins.
One week after the quake, most of the sites inside the city's cordon remain untouched - bikes are locked to street lights, dented and bruised cars sit under a scattering of bricks.
But at the three main sites where many of the victims died - the CTV and PGC buildings and the Christchurch Cathedral - the landscape is slowly changing as unstable buildings are deconstructed, block by block.
At the CTV building, the mound of rubble at the base has mostly disappeared.
However, at the cathedral, the rubble is increasing as teams work to remove the leftovers of what fell within the tower when the spire crumbled.
Outside the city centre authorities are still going door to door, assessing the safety of damaged homes.
Of the 12,250 inspections completed by mid yesterday, 1444 have been deemed too dangerous for residents to remain in.
Many have now fled the city instead.
Police estimate up to 5000 residents have gone to Timaru where a large number of children have been temporarily enrolled in local schools.
In Christchurch City, all early childhood centres, schools and tertiary institutions have been closed until further notice.
Canterbury University has also cancelled all graduation ceremonies scheduled for next month in an attempt to take pressure off the city's infrastructure.
- NZHERALD STAFF, NEWSTALK ZB, NZPA, AGENCIES