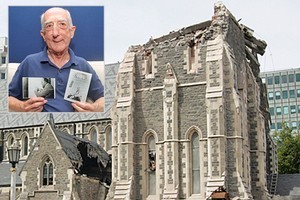 Bellringer John Dunn watched news footage of the earthquake-damaged ChristChurch Cathedral with an overwhelming sense of sadness.
As a teenager he learnt the art of bell ringing in the Christchurch landmark nearly 60 years ago after watching his stonemason father, Cecil Dunn, carve some of the intricate stone panels in the church. His great grandfather, John Dunn, also a stonemason, helped build the cathedral when it opened in 1881.
Today, in his Auckland home, Mr Dunn, 73, said the cathedral was a magnificent building and to see it crumbled and torn apart by last week's 6.3 magnitude earthquake was a devastating blow.
"I feel really hurt. I learnt to ring (bells) in the ChristChurch Cathedral."
Mr Dunn first pulled on a bellrope in the cathedral in 1955 but left Christchurch in 1969 and continued to be a bellringer in Perth, western Australia, and then in England.
He said his father carved a lot of stonework in the building, including the stone carving of the Lord's Prayer in English and Maori.
Mr Dunn said he was particularly distressed to see graphic news images of the stone carving, badly damaged, and with a huge chunk of stone embedded in the top.
"It is hard."
When the cathedral was built 130 years ago Mr Dunn's great grandfather came out from England to work on it as a stonemason.
He said his own father would take him into the cathedral to watch him work on the stone carvings.
"I bumped into a bellringer and he took me up the tower to show me around and that was it. I was hooked."
The earthquake sent the tower's 13 bells plummeting to the ground but it also killed probably 20 people who were visiting or working in the cathedral when it struck at 12.51pm last Tuesday.
Mr Dunn said when his great grandfather worked on the cathedral there were originally 10 bells installed in the tower.
They weighed nearly seven tonnes and were cast by John Taylor & Co of Loughborough, England, only a short time after the company had made the bells for St Paul's Cathedral in London.
The first peal in Christchurch was rung on September 9, 1881.
The original 10 bells were replaced in 1978 with a larger, but lighter, peal of 13 bells, also cast at Taylors of Loughborough.
They were rung for the first time on Christmas Day, 1978.
- NZPA