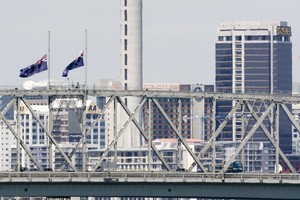 Church bells will ring across the country at 12.51pm as New Zealanders observe two minutes' silence in respect of the victims of last Tueday's 6.3 magnitude earthquake in Christchurch.
As well as at a number of cathedral and church services throughout the country, people can gather in the public places to show their respects, one week on from the devastating earthquake.
Attendees are encouraged to wear red and black to show solidarity with Cantabrians.
Auckland
Victoria Park, from 12.30pm.
Holy Trinity Cathedral, Parnell, from 12.30pm.
Hamilton
Garden Place, 200 hundred red and black balloons will be released in honour of the victims.
Waikato University, Village Green.
Rotorua
Civic Centre, outside the Hinemaru St entrance, gather just before 12.51pm.
Taupo
Great Lake Centre, at the cenotaph.
New Plymouth
Taranaki Cathedral Church of St Mary, from 12.30pm.
Napier
St John's Cathedral
Palmerston North
All Saints' Church in Church St
Wellington
Civic Square, Wakefield Street, from 12.45pm.
Parliament grounds, from 12.30pm.
Wellington Cathedral of St Paul, from 12.30pm
Nelson
The 1903 Square, from 12.30pm.
Blenheim
Seymour Square.
Greymouth
Grey District Council, next to the fountain, Tainui Street, Greymouth. Just before 12.51pm.
Christchurch
Mayor Bob Parker is advising people not to head into the central city, but rather to reflect for two minutes in their communities.
There will be a service at the Art Gallery at midday.
Queenstown
Village Green, as part of the Kia Kaha Christchurch fundraising concert, from 12pm.
Dunedin
The Octagon, followed by a short service of prayer St Paul's Cathedral at 1pm.
Invercargill
Invercargill City Council, next to the flag pole on Esk St, Invercargill, just before 12.51pm.
First Presbyterian Church
St Mary's Basilica