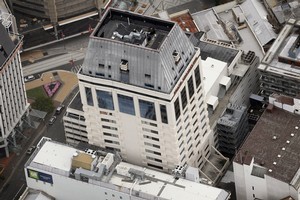 Work has begun to stabilise the Hotel Grand Chancellor so that Urban Search and Rescue teams can check buildings within a 90 metre cordon of the hotel.
More detailed engineering advice indicates that only the block immediately in front of the HGC building will have to wait until the hotel is stabilised to be checked, Civil Defence said. This area includes the Holiday Inn building.
Civil Defence said Usar engineers and structural engineers had carried out a detailed evaluation of the building and found the building initially tilted because critical structural elements at ground level in the south east part of the building failed.
It said three columns on Level 12 had also been damaged but that there had no further movement of the building.
"It is difficult to assess the building's capacity to resist aftershocks, but we do know that the building's structure is stable and it's resisted several strong aftershocks without any signs of further movement," building evaluation manager Steve McCarthy said.
He said it would take around three weeks to stabilise the building.
The first phase will start in the ground floor foyer area, with concrete poured into boxed formwork on either side of the damaged wall. Concrete will also be sprayed on both sides of the wall to provide further strengthening. Two beams in the south-east corner will also be propped.
Once this is complete, steel jacketing will be wrapped around the damaged columns under Level 12, with concrete pumped between the steel and the existing columns to provide strengthening.
"We anticipate that this will stabilise the building sufficiently for USAR teams to enter the building and give them access to survey the block immediately opposite which includes the Holiday Inn," Mr McCarthy said.
"Once the stabilisation is complete, we can then move from emergency response into planning the hotel's future and provide the owners with engineering advice on whether it's possible to save the building or demolish it."
- NZHERALD STAFF