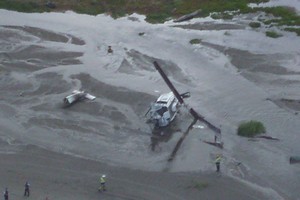 A man has serious injuries and another remains trapped in wreckage after a helicopter crash near Levin.
Emergency services were called to the crash involving the commercial Iroquois helicopter on Hokio Beach by a witness at about 9am.
They freed a man with serious injuries from the wreckage and transferred him to a rescue helicopter to be airlifted to hospital, police say.
Palmerston North area commander Inspector Brett Calkin says emergency services are still working to free another person trapped in the Iroquois.
He could not confirm whether the trapped person is still alive.
The crashed chopper was from Rotorua, he says.
- NZ HERALD STAFF