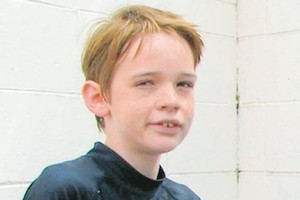 Teenager Jayden Andrews-Howland was on a bus into town, probably to figure out how he would spend his birthday money.
The 14-year-old was among hundreds of students let out early last Tuesday at Linwood College, which was having a teacher-only afternoon.
It was his birthday the next day and his family believe he had gone into town to look for his present.
The bell rang at 12.30pm and Jayden was seen getting on to the No 3 bus into the Christchurch CBD.
Less than half an hour later, the earthquake struck.
He has not been seen or heard from since.
Yesterday, his grandmother Janet Andrews choked back tears as she spoke of Jayden.
"He was in his school uniform and it was a half-day at school, so that's why he was on the bus," she told the Herald.
"He had his bike stolen a few weeks ago so he often just went into town on the bus before going home. He would have been looking for something to use his birthday money on."
Mrs Andrews said the family had been hoping their boy had been taken in by someone.
However, seeing images of the No 3 bus - crushed by bricks and other fallen debris - had wiped out all hopes.
"We're all very resigned to the idea that he is not coming home alive," Mrs Andrews said. "There's been no communication, and Jayden is that kind of kid - if he could have contacted us, he would have been in touch straight away.
"He's an only child and you can imagine his mother is just cut up about it. You just don't understand it, but he really was her life."
Jayden's family have been distributing flyers and posting messages about him on Facebook asking anyone who may have seen him on Tuesday to come forward.
However, no one has been in touch.
Mrs Andrews said the family were just coping, but his mother was finding it particularly hard.
"Most of the time I'm okay," Mrs Andrews said, "but there's certain triggers that set you off."
She described her grandson as a "good kid" who loved riding his bike.
"He's a quiet child; not very adventurous, but just a good kid. You hear people say that all the time, but it's true. Jayden's a good kid and he would have been in touch with us."