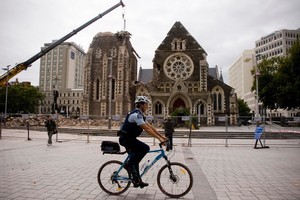 Eight arrests were made overnight in Christchurch with several caught looting.
Police commander Superintendent Russell Gibson says while there are hundreds of people helping, there are still criminal elements trying to take advantage of the situation.
He told Newstalk ZB one man was intimidated by Australian officers and blurted out what he was doing.
"He was happy to admit to them he'd been thieving within the cordoned area and led us to a couple of places he'd removed items from" he said. "He's now sitting in the cells and will be seeing a district court judge tomorrow."
Earthquake Recovery Minister, Gerry Brownlee, is disgusted by the behaviour of a minority of people in Christchurch.
"It's absolutely necessary that strong sentencing is applied to those people, they're disgraceful opportunists", he told Kerre Woodham on Newstalk ZB.
Arrests were also made last night for drink driving and domestic violence.
New South Wales Detective Inspector, Graeme Parker, says looters will be caught. "The public on occasion think the police are too busy to enforce the normal laws of the land, but that's not the case" he said.
"Now the overseas police are here to assist I think there's plenty of police around at the moment."
- NEWSTALKZB