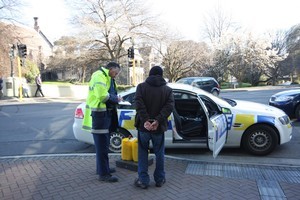 If Carol Clarke had her way there would be no trial, no judge, certainly no jury or even a sentencing - just an execution.
The 61-year-old sickness beneficiary was disgusted a young man for whom she once bought swimming lessons looted her home of 26 years when she fled to her son's flat after the earthquake.
"These looters should be turned around and shot in the back. They are the lowest of the low."
The man stole essential medication for her son, who suffers from attention hyper deficit disorder. "It just sickens me, it's so disgusting."
Since the earthquake struck, 14 people have been charged over looting and four remanded in custody. But police have had hundreds of calls from people reporting thefts.
Police have also warned of people visiting homes posing as Earthquake Commission officials and of internet scams.
Christchurch Superintendent Dave Cliff said with the addition of 290 Australian police officers, the city would be saturated with late-night police patrols. He said looters would be caught.
In Clarke's neighbourhood, dozens of homes are red-stickered - meaning they can no longer be lived in. Many of her friends have already left the street for places such as Kaikoura, Timaru and the North Island and will likely never return.
Her neighbours, Mark and Lynda Poissonnier, are scared their home, which they bought nine years ago, will be looted. They are taking what they can as they move to their niece's Rolleston garage.
"If I saw one of those pricks I would f***ing bury the ****," said Mark Poissonnier - and his feelings are shared by thousands of people on social media sites.
Last night more than 27,000 people had signed up on Facebook for "Public Humiliation for the Looters of the 22/2/2011 Earthquake."
Police Minister Judith Collins said the actions of looters was akin to "people who rob the dead".
She expected to see the judiciary throw the book at looters.
"I hope they go to jail for a long time - with a cellmate."
Christchurch District Court judge Michael Crosbie took a tough line on people arrested for looting.
At a court sitting in makeshift premises in the central police station he remanded four men in custody until March 28 on burglary charges.
- additional reporting Frances Morton, NZPA