Specialised search teams tunnel through the darkness to find survivors of the quake.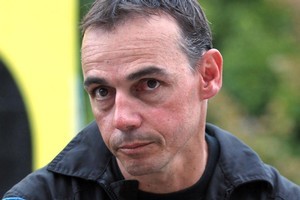 This is the inside story - not of the earthquake but of the ruins. This is the story of those who tunnel into the rubble in search of The Void.
That is the name given to those thin slivers of existence in crushed buildings where survivors wait for rescue.
Mike Carter found The Void on Wednesday, and inside it there was a woman waiting. Anne - as they knew her - had no hope of life after the building she worked in collapsed upon her and her colleagues. She waited ... and the Urban Search and Rescue Team found her.
It is dark inside those collapsed buildings - and yet there are those who will shine a light into those tiny spaces.
Prime Minister John Key called it our "darkest day". We lost so many on Tuesday that the rescue of just one life is a joy.
There are, as of this morning, 146 people dead. More than 200 are missing. There was no discretion and only indiscriminate mercy when the quake struck at 12.51pm.
There would be many more dead without those who search the ruins, who dare to slither into those slim pockets of survival where so few people have been found.
There would be more dead without the Urban Search and Rescue teams.
Carter and his team from Auckland's central fire station left for Whenuapai airfield north west of the city at 2pm on Tuesday to wait for a flight to Christchurch. They reached the devastated city at 11pm and went straight from the airport to the centre of the ruined business district. They dumped their personal gear and were working by midnight.
"We knew things were pretty bad down here. We knew there were fatalities."
For Carter, 39, of Te Atatu, this was what he had trained for. He had read about collapses of large office buildings and had studied photographs but in 11 years as a firefighter, he never had the chance to practice those skills on this scale.
And here it was.
The Pyne Gould Corporation building was four storeys high with a two storey turret on top. The force of the quake "pancaked" the building, collapsing and twisting the concrete structure until it was flattened, with the exception of pockets largely created by 40cm wide beams running across the structure.
"When it pancaked, those beams formed voids. People survive because of the voids created in the collapse," Carter explains.
The two-storey turret had stayed intact, threatening to topple onto the rubble below.
When Carter got there, the turret leaned across the ruin at 15 degrees - overnight it tilted to about 25 degrees. On Wednesday, as the crews worked, it loomed above them. It was too big to teeter; it looked as if it had already fallen but had yet to reach the point where gravity took over.
"There was that big thing ... I thought 'how on earth are we going to work around that'. We assumed it was going to go at one stage. There was even talk of bringing it down."
The Christchurch emergency crews had been at the PGC building for hours and had located many of the survivors. "Although the building is pancaked, they are usually on the same floor." They knew which floor Anne was on. She had been vocal earlier but when they started work, just after midnight, no one had heard from her for five hours.
And so they worked. They edged their way into the rubble, inch by painful inch.
One member of the team would take the lead, moving along the ladder and into the pile of concrete and ruin.
The teams make the building "safe" as they go. There are procedures for what they do. They don't come in from the bottom - it is difficult to control. Instead, they try from the top or work in from the side.
It is slow and sure. "Firefighters are used to running into a building and doing everything fast. We have to take this slow, shoring up as we go."
They pass rubble back if it can't be pushed to the side, keeping clear an escape route if needed.
The pointman is rotated back: "Everyone takes their turn at the front of the line," says Carter. Each member takes their turn absorbed in the intensity of the tunnel, which is little more than 70cm wide.
At the rear, a safety officer is monitoring progress and making sure the risk-taking is within calculation and procedure. But there is nothing that can be done about the unpredictable nature of earthquakes.
Carter: "The scary thing is the after-shocks. You can't predict that. There's nothing you can do so you just have to wait it out."
They came so frequently that first night that everyone had a turn experiencing one. When it was Carter down the hole, he found himself against one of the 40cm wide beams running through the buildings that created pockets of survival. He huddled tight against the beam. "It gets your heart rate going, that's for sure."
They moved deeper into the building, through the night. At one stage, Anne began speaking. The rescuers talked to her: "It gives her confidence we're coming to get her."
The beam that created The Void was difficult to work around. At one stage, it narrowed the tunnel to 30cm. The debris also resisted - the rescuers cut a 40cm diameter hole through concrete, then cut through computers and a desk to get to Anne. "Upside down in a 40cm hole ... it's not easy," says Carter.
As midday passed, they could speak to Anne and then, finally see her. "The first sight we had of her was her feet."
Anne wanted out straight away even though more space needed to be cleared. And, as it was cleared, a paramedic climbed in to check for neck or spinal injuries and to make sure she was okay to move or if a stretcher was needed.
To do that, she had to be turned around. As the after-shocks rocked Christchurch, her rescuers carefully cleared more space and gently moved her so her head was facing out. Cut hands meant her movement was limited, so in that tiny space, they retraced their route to daylight.
"It's pretty awesome. It's what we do it for. It puts a big smile on your face." By Carter's estimate, Anne was out of her frightening prison about 8am on Wednesday leaving the team free to support another team working on another woman trapped nearby. She, too, was freed.
Almost 24 hours after the call came in at Auckland's central fire station, the team was finally free to sleep. At 10.30am, they retired - only to come back on duty at 6pm.
Wednesday night saw the team at the similarly pancaked CTV building, which has emerged as the building with the single greatest loss of life.
As many as 120 people may have died in the building.
Task Force One had worked the building during the day, creating breaches in the collapse to begin tunneling. A deep-seated fire inside the ruins hampered progress, and smoke inhalation was later publicly identified as fatal to any who had survived the collapse.
Carter: "We're here for the living. We can't help the dead."
They persisted through the night, determinedly optimistic at finding a survivor, despite wind occasionally whipping choking smoke from the fires into their faces.
Then there was daytime and rest time, and then another night inside the cordon. This time, it was searching ruined buildings, looking for life and rubble that could have people trapped within.
"It's a ghost town," says Carter of central Christchurch. "There's no street lighting, no people and wreckage everywhere. It's an eerie feeling."
Carter blinks and shakes his head, trying to think what day it is. "I'm a bit lost for where we are," he says, the sun having risen as we talked. It's Friday, but Carter's so tired the days are starting to blend together.
How long will you be here? "Your guess is as good as mine," he says. "We'll be here as long as they need us to be here. If you can tell me when the earthquakes will stop, I'll tell you when I'm going home."
He asks for a ride back to the fire service base, where he has a stretcher to sleep on until his next 12-hour overnight shift begins. If he asked, I'd drive him to Auckland, back to wife Amanda and their two boys.
Getting out of the car, he looks uncomfortable and says: "Don't write any of that hero stuff, eh?"
I won't, I said. And I haven't. I don't need to. People are smart enough to work out how best to describe you, and those others who brave The Void.