We remember the people who lost their lives in the Christchurch earthquake. Learn more and share your memories and thoughts.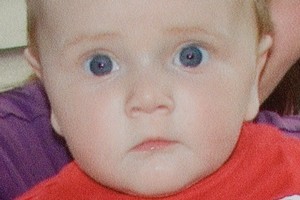 Eight-month-old Jayden Harris died when a 21-inch television fell from a chest of drawers during the earthquake, killing him instantly.
Jayden's mother, Tracey Harris, tried desperately to protect him, but the force of the earthquake knocked her off her feet.
Jayden's big blue eyes and cherubic smile captured the hearts of the nation.
Jayden's father Grant Smith said his son would be sorely missed by himself, his former partner and their two daughters, Stephanie and Vanessa.
"[Tracey] tried to stop the TV from falling over but the force of the earthquake just knocked her down on the ground," Mr Smith said of his former partner.
"She couldn't get up in time."
Mr Smith described his son as a "smiley wee boy" who was just about learning to crawl.
"I've got a photo in my phone, plus a video of him that we took two days earlier... one is of him smiling and the other is of him giggling ... he'd only just learned to giggle."
He said his former partner was struggling with Jayden's death.
"I don't think she's coping well, which is understandable.
"I'm just trying to look after my little girls as well. I'm just trying to be strong for my girls."