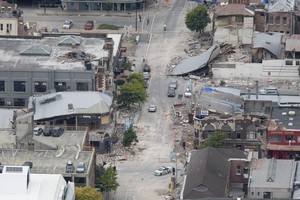 "Entire blocks" of the Christchurch CBD will need to be demolished in the wake of the earthquake, Christchurch Mayor Bob Parker says.
"We will have to prune this city and we'll have to prune it hard," Mr Parker told Sky News. "Entire blocks are going to have to go."
"But we will rebuild this place - some people are saying 'why not walk away?'. But life's not like that.
"We are preparing for the fact that the death toll will rise steadily over the next few days.
"The biggest gap will be left by the people that we have lost, but the fabric of our lives as well - historic buildings and landmarks are just gone.
Mr Parker said people in the stricken city were beginning to accept that the rescue and recovery efforts could not be rushed.
"The mood is palpably shifting to the realisation that this will take some time. These guys are working under extremely dangerous conditions."
Mayor Parker later told a media conference that of the 1000 buildings that had been checked in the CBD, 60 per cent had been deemed to be safe, 17 per cent had been assessed as safe to access, but 20 to 25 per cent had been evacuated and deemed unsafe.
In the suburbs, 341 houses had also been red-stickered and evacuated. Another 500 had only limited access.
More investigation into the extent of damage to houses would be done today, Mayor Parker said.
"This is not a Saturday for us - it's another day of our immediate response."
No trapped people have been found alive in the devastated city since Wednesday afternoon.
But Police Superintendent Russell Gibson told Sky News the 10 international Urban Search and Rescue teams working in the city were adamant people could still be found in rubble nearly four days after the 6.3 magnitude quake.
"They have found people days later in places like Mexico.
"New Zealand deserves a couple of miracles here."
He said police reinforcements were being brought in from around the country to relieve the Christchurch officers who had injured family members or damaged homes.
Some officers have had to come to work despite having loved ones still on the list of 228 missing in the city, he said.
Mr Gibson that search and rescue teams were again primarily focusing on the Pyne Gould and Canterbury TV buildings.
Mr Gibson said there were also ongoing concerns for the safety of the Hotel Grand Chancellor - Christchurch's tallest building which is structurally unsound and at risk of collapse.
Police have again warned people to stay out of the dangerous parts of Christchurch marked by cordons or emergency tapes after finding two journalists in a collapsed building overnight.
They said the journalists acknowledged that knew they shouldn't be in the area and left when asked.
Mr Gibson said emergency tape indicated the building was a safety risk.
He reiterated that breaching the cordon around the CBD was a criminal offence.
The numbers
PEOPLE
123 confirmed dead
More than 200 missing
Nationals of more than 20 countries among the missing
329 people in welfare centres
About 120 patients moved to other NZ hospitals
About 180 aged-care residents moved out of Christchurch
About 1200 police in Christchurch, with 324 Australian officers sworn in yesterday
More than 600 search and rescue personnel including overseas teams
PROPERTY
60 per cent of properties in CBD deemed safe, 17 per cent as safe to access and 20-25 per cent deemed unsafe
More than 4000 checks carried out on residential properties
341 suburban properties deemed unsafe and evacuated
Power restored to more than 80 per cent of Christchurch
70 per cent of general practices up and running
- NZHERALD STAFF, NZPA, NEWSTALK ZB, AGENCIES