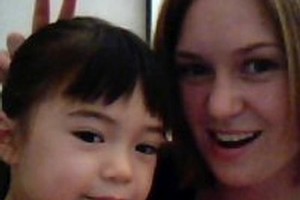 One of the runaway millionaires who has been an international fugitive for nearly two years has returned to New Zealand to face charges.
Kara Hurring, 31, was met at Auckland International Airport by police and arrested on an outstanding warrant.
She appeared in the Manukau District Court yesterday and was bailed to an Auckland address.
The address has been suppressed.
Police spokeswoman Jacky James said Hurring would face theft and money-laundering charges when she appears in the Rotorua District Court on March 10.
Hurring, her then-boyfriend Leo Gao and their daughter left the country 22 months ago after a banking mistake.
Gao had applied for a $100,000 overdraft for his struggling BP petrol station in Rotorua but a bank staff member misplaced a decimal point - resulting in $10 million being transferred into his account.
Westpac recovered two-thirds of the cash before Gao allegedly moved the remaining $3.8 million overseas and out of reach.
Hurring and Gao reportedly separated soon after they arrived in China and Gao left her with little money, the Herald on Sunday reported last year.
Hurring's sister, Aroha, visited the pair on the first leg of their trip. She declined to comment yesterday, as did Westpac. Detective Senior Sergeant Mark Loper said police still wanted to talk to Gao.
Despite Hurring's return, he said the investigation was not over.
"While she has returned to New Zealand voluntarily - and she should be commended for having done so - her move has been prompted by police activity," he said.
Mr Loper said the investigation had been complex because it had crossed international borders.
"New Zealand police have been working with law-enforcement authorities in Hong Kong and mainland China.
"We are appreciative of the support they have given to the investigation within the constraint of their own laws and we continue to have regular interactions as the investigation progresses," Mr Loper said.
"At the same time, we have been working with many of New Zealand's different government agencies on the investigation and we are grateful for their support to date.
"We will continue to work with them in the future."
One of the difficulties that New Zealand authorities face is the fact that New Zealand has no extradition treaty with China.