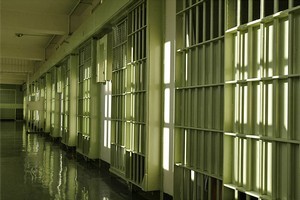 An Auckland prison guard who smuggled contraband into jail for inmates and was paid handsomely has been given four months home detention and ordered to do 200 hours community service.
He's also lost his job.
Halo Tavana, 33, pleaded guilty in December to six charges of taking goods into prison for inmates.
The court was told Tavana, who worked at Mt Eden and Auckland Central remand prisons, did six separate unauthorised deliveries into the prison, after he was aproached by prisoners, between January 2007 and February 2010.
He was paid $5000 to deliver a mobile phone to one prisoner in late 2007, and $1000 to deliver three packets of cigarettes to another jailbird the same year.
He also committed similar offences in 2009 and 2010.
In Auckland District Court today, Judge Eddie Paul told Tavana: "You picked times when the prison was not fully staffed to ensure you could carry out these ...
illegal acts.
"You have let yourself and your family down in a significant way. Most importantly, you have let the community down. There was a significant breach of trust here.
"The community expects corrections officers who are responsible for our prison population to be above acts of bribery. Your behaviour was pre-meditated. You were paid for your actions and it was for greed," Judge Paul said.
But he said home detention would provide adequate denunciation of Tavana's offending.
Each charge has a maximum penalty of 12 months in prison or a $2000 fine.
Defence lawyer Louise Brown said Tavana regretted his actions. "He was trying to support his family - his wife, four children and his brother - but was foolish,"
He did voluntary work with the Church of Latter Day Saints, and was not involved in alcohol, drugs or gambling.
She said Tavana had lost his job and was struggling to find full-time employment.
Another prison guard plead guilty in Auckland District Court last month to taking tobacco into prison and being in unlawful possession of a pistol.
He will be sentenced on March 29.
- NZPA