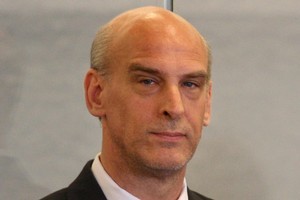 A judge has described a man who strangled his Thai sex worker girlfriend as being "odd" with "serious personality flaws".
Gordon Hieatt, 48, was today sentenced to life imprisonment with a minimum non-parole period of 11 years for the murder of Nuttidar Vaikaew, 48, some time after April 16, 2009.
Hieatt, 49, found guilty by a jury the High Court at Auckland in November, has indicated to his lawyer Peter Kaye that he wants to appeal his conviction.
Justice John Priestley said during sentencing today that Hieatt had got into an argument with Ms Vaikaew, objecting to the amount of rent he was asked to pay and at having to leave their flat while her clients visited.
Hieatt, who had been in an on-again, off-again relationship with Ms Vaikaew for about 2-1/2 years, admitted during the trial he strangled her.
He kept her body for a month until it was discovered.
He said Hieatt had a difficult upbringing and though he had outwardly overcome that, he had suffered from depression.
He had used cannabis to a point where he met the criteria for abusing the substance, and showed a reluctance to take anti-depression medication.
He said there was "something odd about your conduct and personality generally".
"Despite your various strengths, you are a person who has serious personality flaws which you have not been able to overcome."
Justice Priestley said Ms Vaikaew attempted to escape at one point, only for Hieatt to seize her and pin her down on her bed.
He said that after Ms Vaikaew said "you want kill me" for a second time, Hieatt told the court that he heard his voice saying 'yes, I'm going to kill you"' and he strangled her. Hieatt denied under cross examination that he had wanted to kill her.
Justice Priestley said Hieatt, who has no previous convictions, told one report writer that he believed Ms Vaikaew had goaded him into killing her, and he believed she made the plan when he wouldn't pay her rental bills.
He said Hieatt sufered from a bipolar disorder and had narcissistic personality traits but did not meet the criteria under criminal law for mental disorder.
Hieatt had spent a month with Ms Vaikaew's body after he killed her.
He told the court that after her death he washed her body with a cloth, wiping blood from her mouth, nose and eyes before spending the night in bed with her body.
Hieatt strongly denied that he ever touched her in a sexual way.
Police would not comment with a possible appeal pending.
- NZPA