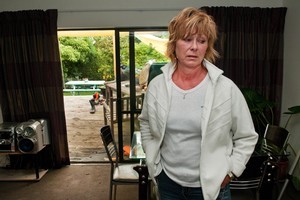 Bexley resident Jen O'Malley says Tuesday's devastating earthquake was the last straw and she can not imagine living in the area again.
Mrs O'Malley has lived in the Christchurch suburb with her two sons for 14 years. Their three-bedroom compact house was hit badly in the September quake but that was nothing compared to the soggy mess that greets them now as they venture home to gather essential belongings.
The Arncliff Street house has sunk over a metre into swampy ground and a dank smell of rotting carpet permeates. Everything has been knocked over and broken and anything near the floor; curtains, bedding, furniture, has soaked up the ankle deep dirty ground water pushed up by liquefaction.
Mrs O'Malley's teenage sons, the oldest of whom is autistic, were in the house alone when the quake hit and she could not contact them for two hours.
"I've had a lot of tragedy in my life with my husband dying and my son being very sick. It's a horrendous thing when everything you have is gone," she says.
Mrs O'Malley has been staying with a close friend in Rangiora, north of Christchurch, and had not been to the house since she rushed home on Tuesday to check on her sons.
She breaks down in tears as she enters the house and sees the mess again, saying the shock of it all still floors her.
She had painstakingly planted everything in the garden herself and had just finished repainting the interior of the house.
"I never thought it could be this bad. After September, every time we had a big jolt I had to fix up my drains again but Tuesday has made it all irreparable. I have no idea what we are going to do," she says.
"This whole area should be emptied out and made back into wetlands. Nobody will want to live here now. We just want to get out."
Liquefaction has smashed underground services such as power and sewerage. The suburb is almost impossible to access as many roads are closed, and those that are open badly damaged.
Mounds of wet black sand cover the neighbourhood, piled as high as the diggers that are working to clear the streets. Mrs O'Malley tells NZPA a neighbours' daughter had been working in central Christchurch when the quake hit and had had to have both legs amputated when caught in the quake, just weeks before her wedding.
She has contacted most of her neighbours and no one was talking about staying in that area. She was planning to move to the outskirts of Christchurch.
"They need to just pay us out so we can move, there is no point trying to stay here. What's the point of rebuilding here when it could happen again?"
- NZPA