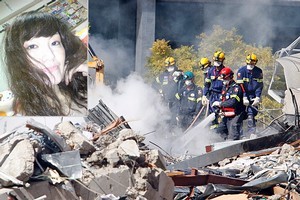 At 9.18am on Tuesday, Miki Hayasaka updated her Facebook profile with the message "look up at the blue sky, look around me always, look at myself and look toward my future of happiness".
Hours later, the 37-year-old nurse was among hundreds missing and feared to have been killed by a huge aftershock that hit Christchurch.
Family and friends have since flooded her profile when messages asking her to let them know where she is and that she is well. They have gone unanswered.
Dozens of harrowing stories like that of Ms Hayasaka have begun to emerge from Christchurch - where police confirm 98 have been killed and 226 are missing in the aftermath of Tuesday's 12.51pm quake.
The father of Yuki Hashimoto, 22, told Japanese news site Asahi.com he is still anxiously waiting for news about his daughter.
She had enrolled at King's Education to improve her English. Its headquarters was on the third floor of the devastated Canterbury TV building, which police say is unsurvivable.
The last Mr Hashimoto heard from his daughter was an email saying "I am going now" on February 18.
Mr Osamu Ohtsubo, father of 41-year-old missing nurse Noriko Ohtsubo, told mns.com: "I just want her to keep going. I want to hold my hope."
Another King's Education student relayed a remarkable story of survival to Japanese news agency Yomiuri Online from her bed at Christchurch Hospital.
The 19-year-old was sitting on the fourth floor of the CTV building when the quake struck.
She said she could see the ceiling coming towards her as she dropped through the floor to the ground.
"Suddenly it became dark and I was gasping for air. I could not move as my right leg was trapped in the rubble. I could hear one of the teachers making phone calls and repeating 'very serious'. I could see other students were also making calls."
She was later rescued from among the rubble.
Two teachers were also rescued, Asahi.com reports.
One of them is 43-year-old Toyama City resident Ms Tomoko Kiyu. The other, 48-year-old David Horsley, is thought to be assisting volunteer rescuers at the site.
Many others were not so lucky.
A list released by the school shows 90 students and staff are missing - including its managing director Brian Taylor.