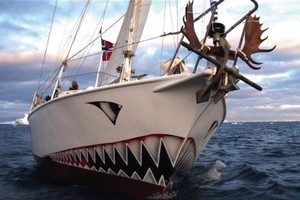 Searchers have found two crew dropped off in Antarctica by a Norwegian yacht which has since gone missing in the Ross Sea with three people on board.
The 14m steel-hulled yacht Berserk set off its emergency beacon on Tuesday night about 33km north of New Zealand's Scott Base, but the beacon stopped transmitting several hours later.
The yacht had dropped off two crew members, who intended to trek to the South Pole, before setting off the beacon.
The Rescue Co-ordination Centre in Wellington said the two crew had provided new information - yet to be checked - about the possible location of their crewmates and the yacht.
There had been no communication from the Berserk other than the beacon, said Ross Henderson from the rescue centre.
The two were spoken to on their satellite phone about 1pm yesterday from their position about 160km from Scott Base.
Earlier, HMNZS Wellington looked for the Berserk but called off the search because of the extremely rough conditions.
- NZPA