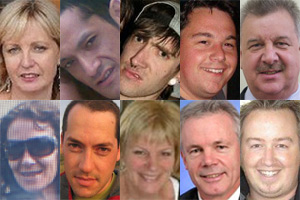 Police have named two babies who died in the Christchurch earthquake.
They are nine-month-old Jayden Harris and five-month-old Baxter Gowland, both from Christchurch.
Police also named Jaime Robert McDowell Gilbert, 22, who was running for his life from the Iconic Bar on Manchester St where he worked when he became trapped under rubble, and Joseph Tehau Pohio, 40.
The death toll from the Christchurch earthquake has risen to 98, Canterbury District Commander Dave Cliff says.
Another 226 people have been reported missing by loved ones and police hold grave concerns for their safety, he says. The majority of the 98 confirmed deceased are expected to be included within the 226 missing.
He said that further names would not be released until identities were absolutely certain.
"Identification of the bodies will be a long and complex process," he said. "In most cases, visual identification of these bodies is proving to be extremely difficult.
"We have been in discussion with the chief coroner and have assessed the risks around releasing the names of the missing. As a result, the coroner is firm that we must continue with our process to ensure absolute certainty around identity."
Mr Cliff said today, 23 bodies were recovered from the devastated CTV building, bringing the total number of victims from the building to 47.
That number was still expected to rise in coming days, he says.
"We believe there will be additional bodies found at that location."
But it is still possible survivors will be found in the rubble and collapsed buildings of Christchurch CBD, the city's Mayor Bob Parker said.
But he acknowledged that each hour it gets harder to sustain hope of finding people alive.
"It is not beyond the realms of possibility that we will find people who are still alive to this point.
"But we need to be realistic about the scale of what has happened here."
Mr Parker called on his Christchurch community to support each other as more names of the dead were released in the coming days.
"We've got to do it well. We've got to do it with love and we've got to do it with support. And we've got to do it with great dignity."
Today, the Herald revealed details about some of the other victims.
Donna Manning, a Canterbury Television presenter and producer and mother of two, is believed to be among those who perished when the CTV building collapsed.
Another CTV employee believed to be among the lost is Samuel Gibb, who was described yesterday as a loving husband and "the last person that deserves this".
Murray Wood, managing director of Canterbury Television, was also in the building, as was Matty Beaumont, 31, a programme scheduler for CTV, Jo Giles, a presenter and 33-year-old Andrew Bishop.
Susan Chuter, 51, also died in the CTV building, where she worked.
Phil McDonald, an accountant with Leech and Partners, died in the wreckage of the Pyne Gould Corporation building in Cambridge Tce. Phil was on the board of the Crusaders.
Jeff Sanft died when he was on one of two buses - going through St Asaph and Colombo Sts respectively - which were crushed by falling debris.
Tattoo apprentice Matti Makeekan died as Southern Ink Tattoo in Manchester St came crashing to the ground.
- NZ Herald staff