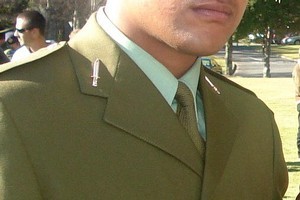 Massive earthquake damage in Christchurch means Kirifi Mila, the New Zealand soldier killed in Afghanistan last week, will be buried in Hamilton without a formal military farewell from his army mates.
Private Mila, 27, died when the Humvee he was a gunner in rolled off a road and down a bank in Afghanistan's north east Bamyan province. Three other soldiers were hurt.
His body arrived at Auckland airport yesterday where his casket was met by his family, members of his 2nd 1st Battalion unit based at the Burnham Military Camp south of Christchurch, and commander joint forces for New Zealand, Air Vice Marshal Peter Stockwell.
His body was to have been taken to Christchurch for a formal military arrival ceremony, also known as a "ramp ceremony."
The ceremony was cancelled because of the Christchurch earthquake and a private family service would be held in Auckland on Friday, the Defence Force said.
Following a private family service in Auckland, a burial service would be held at Hamilton Park Cemetery, in Hamilton.
- NZPA