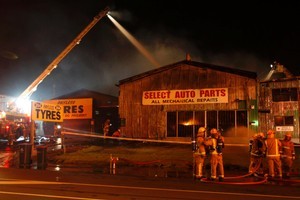 Firefighters are battling a large blaze at a two-storey factory in in the Auckland suburb of Penrose.
Northern fire communications shift manager Megan Ruru said 15 fire engines were called to the fire shortly before 9pm this evening.
Eye-witness, Gabriella Toth, said when the fire first started, she heard two loud cracks and smoke was pouring from the building.
"There was a big fire on the inside, because its whole inside was really lit up. I could see the fire inside the store."
She said the fire had died down by 10pm.