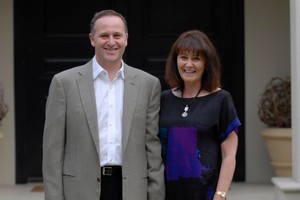 Presidents Barack Obama and Nicolas Sarkozy did not make the cut, but New Zealand's Governor-General and Prime Minister and their wives will be donning their glad rags for April's royal wedding.
Gilt-edged invitations have been sent out to 1900 guests to witness Prince William and Kate Middleton exchange their vows, including about 60 Commonwealth governors-general and other leaders.
New Zealand's Governor-General, Sir Anand Satyanand, and his wife, Lady Susan, will be present in Westminster Abbey.
Prime Minister John Key also intends to go with wife Bronagh, "subject to his schedule", a spokesman said.
It was possible he would also visit France for Anzac Day.
Many of those who will watch the royal couple exchange their marriage vows in the morning service at the abbey will be the couple's family and friends.
The guest list will be whittled down to 600 for the lunch reception at Buckingham Palace hosted by the Queen.
Just 300 of the couple's closest family and friends will go on to attend the "intimate" dinner hosted by the Prince of Wales.
Prince William has also just announced that his and Kate's first royal tour together will be to Canada, from June 30 to July 9.