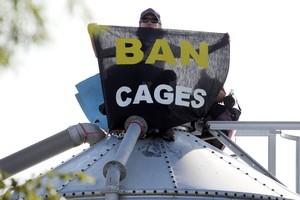 Animal rights protesters plan to spend the night chained to silos on a battery hen farm near Pukekohe, 50km south of Auckland, in a bid to draw attention to the caged birds' living conditions.
The actions of Coalition to End Factory Farming activists Deirdre Sims and Marie Brittain have been criticised by the Egg Producers Federation and police, the latter saying the break-in was wasting valuable police time.
Their protest coincides with the Government's Animal Welfare Advisory Committee taking submissions on a proposal to change battery hen cages to "enriched colony systems", which animal welfare groups, including the Society for the Prevention of Cruelty to Animals, say offer no significantly better conditions for hens than those they currently endure.
Egg Producers Federation chairman Michael Guthrie said the new system had been extensively trialed and proven to be effective.
"Colonies not only meet the requirements of the law, but they achieve what we would all regard as desirable -- the opportunity for birds to indulge in natural behaviours such as nesting, scratching, perching and spreading their wings."
The federation also wanted to ensure eggs remained affordable during tough economic times, he said.
Save Animals from Exploitation director Hans Kriek said the proposed new system would still mean hens spent most of their lives on an area the size of an A4 sheet of paper.
"The worst thing is if they invest millions of dollars in these new systems that the public are still not going to like, more and more people are still going to be moving away from these battery eggs.
"If you put a picture of a colony cage next to a picture of a conventional cage and you showed it to the public, people would say 'it makes no difference'," Mr Kriek said.
The colony system, which gives hens a shared perch, nesting box and a surface to scratch themselves, are already scheduled to be banned in Austria by 2020 for animal welfare reasons.
Ms Sims said she and Ms Brittain had their sleeping bags, food and water and were prepared to spend the night on the 7m-high silos.
It was heartbreaking to see row upon row of caged hens unable to carry out the most basic natural behaviours such as wing stretching and walking, she said.
The action was not aimed at the particular farm, at Tuakau, 10km south of Pukekohe, but at the entire egg industry.
"The egg industry is proposing to introduce colony cages as a replacement for existing battery cages. But a cage is a cage no matter how the Egg Producers Federation tries to spin it," she said.
- NZPA