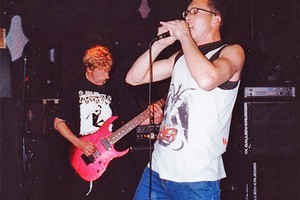 A massive police team hunting the killer of a man who was the victim of a "ferocious" stabbing attack at his Wellington home are appealing for new leads.
The body of Matthew John Hall, 35, was found in his Johnsonville flat about 6.15pm on Tuesday.
Police said that an autopsy showed he died of multiple stab wounds following a "ferocious" attack while he was in bed.
Mr Hall was the lead singer in death metal band named Backyard Burial and went by the stage name "Blaps Warmonger".
Detective Senior Sergeant Dave Thornton said despite calls coming in to a dedicated phone line on Mr Hall's murder, more information was needed.
"We're speaking to a number of friends and associates of Mr Hall's, however, I cannot stress enough how important it is for those who were in the vicinity.
"Over the past couple of days I've said that it is the public who will solve this homicide, and it is vital that anyone with any information contacts Police as soon as possible."
Tributes to Mr Hall have been left on the band's Facebook page, with one saying he was "head brewer, scholar, vocalist and best friend to many".
ESR scientists are expected to complete their scene examination of his house later today, however Police will still remain at the property conducting theirs.
Police want to hear from anyone who may have seen a person or people entering or leaving Mr Hall's home at 118 Broderick Rd, Johnsonville, between midday Monday, February 14 and 6pm Tuesday, February 15, just before police were called.
Anyone with any information should phone 0508 BRODERICK.