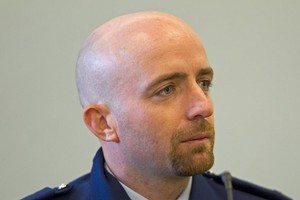 A tearful police officer has told a court he believed a gunman was coming to "finish me off" after being shot four times.
Constable Jeremy Snow was shot in the chest, elbow and both legs when he and his partner were on a routine patrol in the early hours of December 22, 2009.
Lying on the ground, he turned off his torch so the gunman did not know where he was. He watched as the man went down the side of the house, but moments later a man he believed to be the same person came back towards him.
"At that moment I feared the male was coming back to execute me and finish me off," Mr Snow said.
Neshanderan Rajgopaul - on trial in the High Court at Auckland - has pleaded not guilty to attempting to murder Mr Snow and 10 other charges including assault with a firearm and possessing methamphetamine for supply.
Mr Snow told the court he and Constable Robert Cato had been on patrol in Papatoetoe when they noticed the lights on an Audi were flashing. They believed someone might be trying to break into the vehicle.
Mr Snow said that on closer inspection of the car he noticed the handle of a gun in the back. After speaking to one man, he heard someone else moving in the backyard.
Mr Snow said he approached the man who ran to the corner of the property, dropped to his right knee and pulled a gun from his waistband.
Earlier, Rajgopaul's lawyer Ron Mansfield said that it was his client's friend, Darrin Court, who had shot Mr Snow.
He said Mr Court had arrest warrants out for him at the time of the shooting, and was hiding in the corner of the garden with a pistol when Mr Snow and Rajgopaul were facing off.
"[Rajgopaul] is pushed to one side by Mr Court, Mr Court discharges the firearm, hitting Constable Snow."
He said Mr Snow only saw Rajgopaul and so believed it was Rajgopaul who fired the shots.