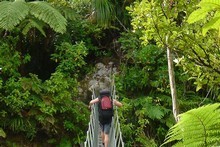 An English tourist missing in the Kahurangi National Park for five days has been found tonight.
James Esbester, 30, was found by the Summit Rescue helicopter about 8.10pm on the bed of the Crow River, about 10km from Mt Luna, which he had intended to climb on the day he went missing.
He has been taken to Nelson Hospital with suspected mild hypothermia, but police said there was no indication he had suffered any injuries.
Mr Ebester had started the Wangapeka track, at the southern end of the park, on Wednesday.
The next morning he wrote in a hut log book that he planned to climb Mt Luna as a day trip.
However, on Saturday a tramping party raised the alarm after arriving at the hut and finding Mr Esbester's note and his equipment, including his passport and a sleeping bag.
The group tramped out and that night alerted police, who launched a search immediately.
Earlier today, 15 teams searched rugged terrain around Mt Luna, Biggs Tops and the ridge between the two, along with Meteor Creek.
More than 50 police, defence force, Fire Service and search and rescue volunteers were involved in the search.
Among the searchers were four dog teams, as well as specialist cavers who were abseiling down bluffs.
- NZPA