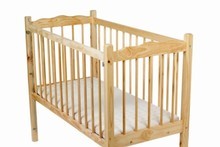 A complaint against a television advertisement that showed a baby lying face down has been upheld because the baby's position could lead to cot death.
The advertisement for Puraz Health's collagen capsules screened on TV One in October last year and was referred to the Advertising Standards Authority by Change for our Children, an organisation that works to prevent sudden infant death.
The authority found the advertisement was in breach of its code of ethics because it showed a situation that encouraged a disregard for safety.
Change for our Children director Stephanie Cowan said the ad came more than 20 years after the finding that if babies younger than 6 months did not sleep on their backs the risk of sudden infant death rose significantly.
"All babies need to be on the back, with a clear face and open airway, and smokefree when they sleep. Every time and in every place they sleep. Imagery that aligns with these principles supports parents to act with safety for their babies."
Puraz Health declined to comment when contacted by the Herald yesterday, but in its submission to the ASA it argued the image of a baby lying on its front was widely used in advertising, and said the baby was not sleeping but resting.
The ad was made by Admarkit and creative director Simon Angelo said the issue "wasn't even on our radar".
"We agree with anything that is in the best interests of New Zealand children. This was an oversight that was purely accidental. Nobody in the process really had any idea that it would cause any offence or any issue."
He said the ad was checked by the Therapeutic Advertising Pre-vetting System, which approves all therapeutic advertising, and the Commercial Approvals Bureau.
A majority of the ASA board ruled that the baby was asleep in a position deemed by experts to be dangerous.
It also concluded that the ad screened at a time when the majority of viewers were likely to have been young mothers.
By Nicholas Jones