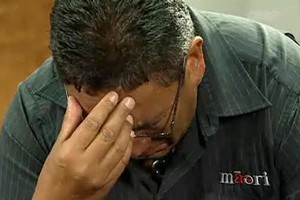 Hone Harawira has broken down in tears in a television interview discussing his problems with the Maori Party.
Mr Harawira became the subject of a formal complaint by fellow MP Te Ururoa Flavell last month after writing a column that said his party had become too caught up in its coalition with National and was supporting anti-Maori policies.
He was suspended from the party's caucus last week, with co-leaders Tariana Turia and Pita Sharples saying the caucus had no faith or confidence in him.
A disciplinary committee met in Wellington on Wednesday to discuss the complaint, and adjourned so Mr Harawira could speak with his Tai Tokerau electorate on Friday and Saturday.
The committee is expected to reconvene early this week.
Speaking to TVNZ's Marae Investigates yesterday, Mr Harawira admitted to having made mistakes while in Parliament, noting in particular an email in which he referred to white people as motherf***ers.
"Given how much I have to offer, given how much that put back my ability to operate effectively on a national stage, I regret that hugely," Mr Harawira said. "I'm no hero, I'm going to make mistakes, but I like to think that those mistakes are made because of a passion and a genuine desire, and sometimes anger to want to see things change for the better for the whole country, but particularly for Maori."
When speaking about the support he had received from his electorate and his wife, Mr Harawira broke down in tears and asked the interviewer to stop the filming.
When the interview resumed, Mr Harawira said he often played on his big, bad wolf image.
"Sometimes you just need that edge," he said.
"People may always say 'he's a bully' but I like to think that the results of the things I have done speak more than the behaviour."
Mr Harawira said that he regretted his Facebook comments referring to
"dickheads" trying to expel him and reiterated his desire to stay in the party.
However, he also continued to defend the comments criticising his party in the column.
"I've yet to see one comment that attacked me for the issues that I raised in that article. Just got to realise that the issues are the important thing, it's not the personalities," he said.
"I know I can provide true Te Tai Tokerau representation whether I'm in the party or outside the party. Being outside the party's not something I'm currently contemplating.
"I'm having difficulties with my colleagues and hopefully we can come to terms with that."
- NZPA