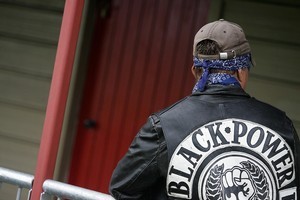 A teenage Black Power gang member is still on the run tonight after he allegedly shot his Mongrel Mob neighbour following a fight in the northern Hawke's Bay town of Wairoa this morning.
The 42-year-old Mongrel Mob member was shot in the shoulder about 8am and police, including the armed offenders squad, are looking for a 19-year-old Black Power member.
The men were neighbours and were fighting when one grabbed the firearm and fired two shots at the other, said Sergeant Aubrey Ormond of Wairoa police.
The shooter had then left the area, Mr Ormond said.
Police would not say whether or not they recovered the firearm but there would be a large police presence in the town tonight.
The victim was taken to Wairoa Hospital for treatment to his shoulder and pellet wounds to his face, then transferred to Hastings Hospital.
His injuries were not thought to be life threatening, police said.
Mr Ormond said there had been a spate of violent crime in Wairoa over the weekend and police officers from Gisborne were helping with investigations.
Police were also seeking a person who attacked a 30-year-old woman with a bottle, cutting her right eye, at a 21st birthday party.
Another man was hospitalised with serious facial injuries after a group set upon him and two other men outside a local sports club late on Saturday night, Mr Ormond said.
The 18-year-old was transferred to Taranaki Hospital for treatment. The two other victims, aged 18 and 20, were treated for moderate facial injuries at Wairoa Hospital and discharged.
Police were investigating leads, Mr Ormond said.
Wairoa, which has a population of about 8500, was the scene of a number of gang shootings last year.
In August a man was shot in the face during an all-in violent brawl which saw 24 people arrested and the month before another gang member was shot in the face.
In October a Mongrel Mob member was shot twice as he refuelled his car at a service station.
- NZPA