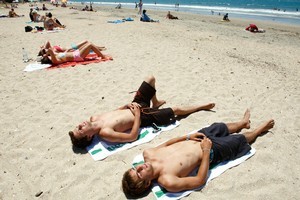 Stings from microscopic jellyfish are plaguing swimmers at popular beaches on Auckland's North Shore.
A health warning has been issued for Takapuna, Cheltenham, Narrow Neck and Red Beach after reports of people developing itchy and painful red rashes after swimming.
The rashes were very likely caused by microscopic jellyfish, a statement from Auckland Regional Public Health Service said.
It said the jellyfish, which are too small to be seen, get caught inside togs and sting covered skin areas once the swimmer gets out of the water.
Medical Officer of Health Dr Simon Baker said the problem was likely to spread throughout the Hauraki Gulf amid warm summer weather.
"The only sure-fire way of avoiding this rash is not to swim at affected beaches."
Tactics for minimising the risk of jellyfish stings include not wearing baggy clothes in the water, removing togs and showering after swimming, said Dr Baker.
If swimmers get a rash, cool clothing and calamine lotion may help, he said.
"We know this is the time of year that people want to be at the beach. We just want people to have the information they need to make choices for their own and their families' good health."
Little is known about the habits of microscopic jellyfish.

Until 2008 the rash associated with their sting was thought to be caused by sea lice.
However, sea lice tend to bite exposed areas of skin, whereas the jellyfish normally sting beneath togs.

- NZ Herald staff