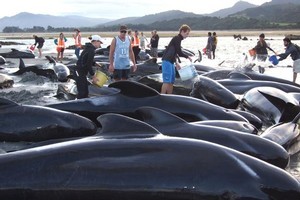 Three pilot whales were found dead near Farewell Spit, at the top of the South Island, after they beached for the third time this morning.
Department of Conservation (DOC) spokeswoman Trish Grant told NZPA the two groups of whales which restranded on Farewell Spit yesterday afternoon moved with the high tide overnight, and have now formed three groups.
She said there were about 19 whales near Puponga, about 25 at the base of Farewell Spit on triangle flat, and about 25 whales 10km down the spit.
The groups were believed to include the 66 whales which refloated themselves on Saturday morning after becoming stranded at Puponga Point, north of Taupata Point, on Friday. Fourteen of the pod died in that stranding.
"Some of the dead are calves," Ms Grant said. "This is the third time they have stranded and to be stranded even once is a quite a stressful ordeal for a whale. They are doing surprisingly well considering what they have been through."
She said DOC staff planned to refloat the whales at 1pm when the next high tide was expecteded. They would first focus on freeing the Puponga whales.
"They will get water on them first because of where they are. We are hoping they will start to move towards where the others are.
"If we are able to succeed in reuniting the Puponga whales with the triangle flat ones, we will be very pleased."
It was not known why whales stranded but theories included navigational mistakes, Ms Grant said.
"Farewell Spit is a bit of a trap," she said.
"You need to veer right to get past it, and they didn't seem to know that.
"It's something that has occurred reasonably often in Golden Bay with pilot whales."
Pilot whales are about 4m-6m long. They are the most common species of whale seen in New Zealand waters.
Last month 24 pilot whales died after stranding in Parengarenga harbour, near Cape Reinga in the Far North.
In December 2009, more than 120 whales died in two separate beachings at Farewell Spit and Colville Bay, north of Coromandel.
In December 2006, rescuers managed to save the majority of 140 pilot whales stranded at Puponga Bay.
But just two weeks later, on New Year's Day 2007, 50 whales died after beaching at Farewell Spit.
- NZPA
\NZP