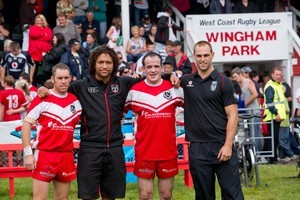 Rugby league and mining run deep on the West Coast, so when the Vodafone Warriors arrived in Greymouth for a fundraiser for families of the Pike River victims, a record turnout was on the cards.
Warriors captain Simon Mannering said players were overwhelmed by the reception they received, from their arrival on Thursday, to their school visits and charity dinner, and finally to their game against Newcastle Knights yesterday afternoon.
About 5000 tickets were pre-sold, making it a record crowd at the town's Wingham Park.
"I would say it's one of the only places in New Zealand where league is the number one sport, so it's a pretty special place for us to come to," said Mannering.
A West Coast invitational team - including Kurt Dixon whose father Allan died in Pike River and Alan Monk whose brother Michael died - played the Canterbury Bulls in the curtainraiser.
Proceeds from the visit are to be split between the Pike River miners' relief fund and the West Coast Rugby League.
"When you know what these people have gone through it makes you feel good to be down here," Mannering said.