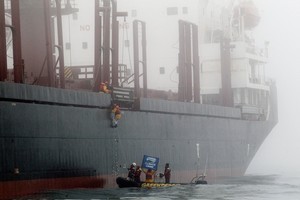 One person has been arrested after Greenpeace activists boarded a shipment of palm kernel to prevent it from being unloaded in New Plymouth.
It happened as the MV Great Motion, with a load of 10,000 tonnes of palm kernel, was moored at Port Taranaki awaiting another ship to unload its contents.
One activist climbed on to the ship's anchor and four others occupied the ship's cranes.
The activist on the ship's anchor was arrested and removed by police, Greenpeace New Zealand climate campaigner Nathan Argent told NZPA.
"Four others remained on board and are currently occupying the cranes on the vessel itself.
"However, the ship has now managed to enter the port and is now alongside its berth," Mr Argent said.
Greenpeace has called on the Government to put a stop to Fonterra's expanding use of palm kernel, which it says is typically grown on land cleared of rainforest.
Greenpeace said palm kernel -- used as a stock feed -- posed a significant risk to New Zealand's economy as it tarnished the country's international clean green reputation.
"The Government is failing New Zealand and the world by not taking Fonterra to task over the economic and climatic damage done by the company's use of palm kernel in New Zealand, and by Fonterra's industrialised approach to dairying," Greenpeace New Zealand climate campaigner Nathan Argent said.
"Palm kernel imports linked to deforestation and peatland destruction must be stopped immediately."
Greenpeace travelled to Indonesia to document the destruction being done by the palm industry there in August 2009.
Later that year, they stopped a shipment of palm kernel in Tauranga, and painted a message on the side of another ship in New Plymouth.
In September 2010, Greenpeace returned to Indonesia to gather evidence of how the palm industry was causing destruction. Their findings were delivered directly to Fonterra's headquarters in Auckland, and to the Beehive.

- NZPA