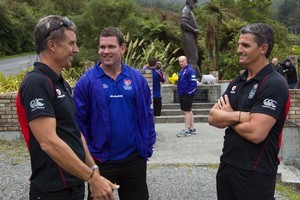 Players in the curtain-raiser to today's league match between the Warriors and the Newcastle Knights in Greymouth will be playing for more than a win.
They will also be playing for loved ones lost in the Pike River mine tragedy.
Alan Monk, who lost his brother Michael, and Kurt Dixon, who lost his father Allan, will play for the West Coast Invitation XIII against the Canterbury Bulls team in the first part of the Miners' Solidarity Day, which is raising money for families of the 29 men who died in the mine tragedy in November.
"Personally, for me, I'll definitely be playing for Michael, but as a team in general, we are playing for the whole coast," Monk said.
He expects it will be an emotionally charged time.
"But once we get out onto the field, the determination will overcome the emotion, I think."
Dixon said he had run out onto Greymouth's Wingham Park many times in local grand finals, but today's
match would be unlike anything else.
"Dad loved his league, and he coached us when we were kids. He will be up there thinking that's a pretty cool thing. It will be emotional, but after the kick-off, it will all be about the football."
Monk said the buzz in the town was that people were looking forward to the curtain-raiser as much as the main game.