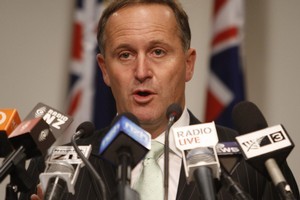 Prime Minister John Key has announced the election will be held on November 26.
Mr Key said it was a break from tradition to announce the election date this early but he believed it was necessary to provide certainty in what was a big year for New Zealand.
He said he had previously indicated he did not favour an early election.
Mr Key said his own personal preference was a four-year fixed term. He could not recall any Prime Minister announcing the election this far out, but said he was comfortable with his decision to do so.
Mr Key said the Rugby World Cup was the biggest event New Zealand had ever hosted and he didn't want the opportunity to showcase the country being undermined by "me playing politics" with the election date.
Setting the election date now would allow the country to concentrate on the Rugby World Cup knowing the election would not be held until later in the year.
"I believe it is in the country's best interests to know the date of the General Election early in election year," he said.
"It creates certainty for New Zealanders and allows people to plan accordingly."
Mr Key also ruled out NZ First as a coalition party, saying he had reviewed his position over summer and saw no reason to change it.
"Nothing has changed since 2008," Mr Key said.
"I'm about tomorrow. I'm not about yesterday."
He said ruling out NZ First did not mean National would lend a helping hand to its other potential partners - Act and United Future - to ensure they kept their electorate seats of Epsom and Ohariu Belmont respectively. National would stand candidates in those seats.
In response to Mr Key's comments, NZ First leader Winston Peters said Mr Key should wait until the election before deciding on the shape of the next government.
"Mr Key is obviously dead scared that we will be around to stop him flogging off all our state-owned assets," said Mr Peters. "He knows that we will not let National go down that path ever again. He knows that we will not let National give away the Foreshore and Seabed."
He also said NZ First had never indicated it wanted to go into coalition with any particular party.
"We also have the option of sitting on the cross-benches acting as a watchdog for the people and getting them a better deal from whoever is in government."
Mr Key said he had informed the Governor-General of the election date last night and Parliament was likely to rise on October 6 and be dissolved on October 20.
Writ day would follow on Wednesday, 26 October, and nomination day would be Tuesday 1 November.
Labour Leader Phil Goff reacted to today's announcement saying his party was ready to begin the election battle.
"Labour will campaign on the issues that are affecting New Zealanders most. We know that people are worried about the soaring cost of living with prices rising much faster than wages. That will be a key issue this election."
In a press conference this afternoon, Mr Goff said November 26 was "the logical date" for the election, saying it gave Labour a "clear space" between the Rugby World Cup and the election to campaign in.
"You didn't have to be a rocket scientist to guess the date."
Mr Goff wouldn't rule out working with NZ First, saying it would be "arrogant" to rule anyone out before the voters had made their decision.
- with NZ Herald staff