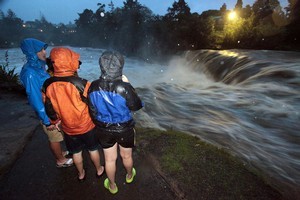 Extremely heavy rain caused chaos in northern New Zealand late last night as Cyclone Wilma moved across the country.
A spokesman at police northern communications said the North was getting "hammered", with 43 incidents reported between the Far North and Warkworth by 10.30pm.
In Kaeo, a family were rescued from their house, which is on stilts, as water levels rose to their veranda, he said.
"We've had people stuck in cars, cars stuck in rivers." Many of the incidents resulted from road blockages and surface flooding.
A comment on weatherwatch. co.nz last night said: "Kaeo is getting battered right now and the road going through is flooding. Slip has closed the road as well. Tide is coming in as well so it may get much worse overnight."
In Whangarei, three people were trapped in a car as water rose around them. The Fire Service rescued them.
A fire crew advised one family in Ruakaka to evacuate their house.
WeatherWatch head analyst Philip Duncan said Wilma was the most significant cyclone to hit New Zealand in 14 years.
He said although the storm was expected to track slightly east of land, the most severe winds, circling 100km to 200km from the centre of the system, were still likely to make landfall.
Wilma was still a powerful category 2 cyclone with winds gusting up to 150 km/h, Mr Duncan said. "Winds will not gradually rise, they will hit suddenly with little warning."
Earlier yesterday, thousands of music fans at the Parachute Christian festival near Hamilton were bracing themselves for lashings of heavy rain as the cyclone drew near.
Organisers said the first day of the festival had been successful as far as the weather was concerned, with warm temperatures and no sign of rain throughout the day.
Last night, a spokeswoman said people were preparing themselves for a downpour overnight.
"The vibe's great, but we've heard there's going to be some rain."
The MetService issued a severe weather warning for Northland, Auckland, Waikato, Coromandel Peninsula, Rotorua and Gisborne for heavy rain through to about midday today.
Severe gales were also predicted to hit Northland and Great Barrier Island overnight.
The MetService said Wilma was expected to lie about 90km northeast of the Bay of Islands by midnight and should pass just to the north of East Cape late-morning today, before racing away to the southeast.
When Wilma passes by New Zealand, it will no longer be a tropical cyclone, but will bring strong winds and heavy rain to parts of the North Island.
MetService said rainfalls of 100mm to 200mm were likely, with rates possibly reaching 25mm to 50mm an hour, which could cause surface or flash flooding, lead to slips and cause rivers and streams to rise quickly.
The rain would be accompanied by strong or gale-force winds.
Mr Duncan predicted Auckland would escape the brunt of the storm, but said winds could still be strong enough to break branches and cut powerlines this morning.
He warned that while the flooding seen last week was unlikely to be repeated, extra-high tides could cause some coastal flooding.
However, the storm would last for only 12 to 18 hours in most regions.
Meanwhile, organisers of Auckland's Anniversary Day regatta on Monday are crossing their fingers for good weather after the cyclone threat led to the cancellation of a race for classic yachts which was to have started on Thursday night.