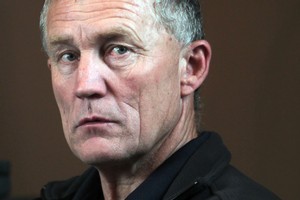 Police made the "wrong call" to raise hopes for a rescue after the first Pike River Coal mine explosion, Grey District Mayor Tony Kokshoorn says.
He was responding to the findings of yesterday's coronial inquiry in Greymouth into the deaths of 29 men working in the mine. It revealed they died almost instantly or shortly after the first explosion on November 19.
Causes would have included asphyxiation, carbon monoxide poisoning and burns from the subsequent methane fire.
Questions about what caused the tragedy and whether it was preventable will be considered by a Royal Commission of Inquiry.
Mr Kokshoorn said Pike River Coal mine chief executive Peter Whittall and Superintendent Gary Knowles had been wrong to treat the operation as a rescue rather than a recovery, in light of Chief Coroner Judge Neil MacLean's findings.
"In hindsight, we know it was the wrong call because the coroner has confirmed that, but how were they to know that? They were under a lot of pressure from myself, the families and everyone to rescue somebody.
"It was a chicken and egg situation. They were telling us that they could be down there alive so we were running with that. We're all experts in hindsight..."
However, it was natural that people had initially hoped for survivors and dismissed suggestions to the contrary.
"We all got on the bandwagon of hope but we were taking the lead from Gary Knowles and Peter Whittall who were fronting the rescue ... but yeah, it would have been a lot easier on everyone if we knew they'd died within five minutes of the explosion. But that was left to conjecture and speculation."
He said the inquest had also raised new questions, including who was in charge of the search and rescue operation immediately after the explosion.
Mr Knowles had told the court he took charge of the operation at 12.30am the day after the explosion, and Mr Kokshoorn wanted to know who was controlling the situation in the "crucial" first hours. Mr Knowles had not been able to answer the question.
Mr Kokshoorn said there might have been a window of opportunity to retrieve the bodies immediately after the explosion.
Since then, the families had endured an "extraordinary set of circumstances".
"They've got to be pulled through this Royal Commission of Inquiry, which they know, and we all know, is absolutely necessary because everyone wants to know why it happened and they want to know how it can be prevented in the future because this is a coal mining region."
Mr Kokshoorn said he wanted the inquiry to address key issues, including whether the coal mining industry needed independent safety inspectors, free of a company's production demands, and whether running search and rescue operations put police under too much pressure.
"In other words, and I want to stress this is not a criticism of the police ... should search and rescue personnel completely run search and rescue operations and let the police do their bit, which is opening up an immediate investigation...?"
Hearing Mr Knowles, officer in charge of the initial rescue operation, tell the court the last time each man had been seen by their families had been emotional for everyone.
"It brings closure to them and I think it would have helped to know that there was no suffering by the sound of it -- it was over quickly for them ... now that the experts have said that, it just gives that grieving process one big step forward."
Mr Kokshoorn said the past two months had been an experience of hope, grief, helplessness, anger and frustration.
"It (the inquest) just brings closure to a sad episode in our history here on the West Coast," he told NZPA.
He would never turn his back on the Coast's coal mining industry and he hoped Pike River Coal mine would reopen.
"(The families) also would want that mine operative in that future, many of them have said that to me, because coal mining on the West Coast is an economic lifeline for us."
- NZPA