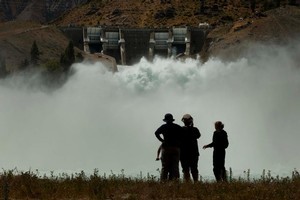 Government plans to partially sell some state assets, including power companies, could free up to $10 billion, but critics say the move will lead to higher electricity prices and put too much control of strategic assets in foreign hands.
Prime Minister John Key yesterday unveiled National's plans to sell minority shareholdings in three power companies - Mighty River Power, Meridian and Genesis - and coal company Solid Energy. It also wants to reduce the Government's stake in Air New Zealand from 76 per cent to 51.
State asset sales were stopped in 2000 when Labour was in power.
Mr Key said the steps could raise $7 billion to $10 billion, which could be reinvested in other assets and help to reduce NZ's reliance on debt.
However, unions and Opposition parties quickly voiced their concerns.
Labour leader Phil Goff said the proposal was a "recipe for soaring power prices" and foreign ownership of the assets.
"Mum and dad investors might get the first bite, but they quickly gravitate to the big investors overseas. Everyone knows that."
Private owners would demand higher profits, pushing prices up.
Mr Key rejected the criticism, saying there was no reason a model of mixed public and private ownership would result in price increases.
"In the nine years Labour was in government, power prices went up 72 per cent and the Government owned 100 per cent of the assets."
The PM said the Government had since heavily regulated the electricity industry, removed inefficiencies and brought rising generation costs under control.
A partial float would inject valuable capital into those companies, allowing them to expand. It would also give New Zealand "mums and dads" and investment funds such as the Super Fund and ACC strong New Zealand investment options.
Consumer NZ chief executive Sue Chetwin agreed with Mr Key's assessment that electricity prices would not increase with partial privatisation.
"The power companies over the past 10 years have been rapacious in putting up their prices and I don't see that making part of the company available for the public to invest in will make much difference there."
However, Ms Chetwin said companies would become more transparent and would have to explain their actions to the public.
"At the moment nobody really looks at the SOEs [state-owned enterprises] because their shares aren't being traded. But once they are being traded, the company will have to adhere to stock exchange rules and be much more publicly available."
Mr Key acknowledged the policy could be unpopular, which was partly why National had decided against selling entire state assets if re-elected.
"I know the polling indicates people don't necessarily like the concept, but do they like the concept of interest rates going up? Do they like the concept of the economy all of a sudden being controlled by bailout?"
He understood the value New Zealanders put on holding a majority stake in such companies. "The question they have to ask themselves is, do they need to own 100 per cent?"
He said he believed New Zealanders were realistic about the state the economy was in and knew there was a real risk of a credit downgrade, resulting in higher interest rates.
Mr Key said none of the other state-owned enterprises were being considered for sale. However, more sales could be possible in 2014 or after.
The PM said the "preliminary" view was that only assets which were stable, mature and would give a good return to New Zealanders should be sold. While there were other Crown-owned businesses that had potential, he said, they "needed more work or they need to change".
He had already committed the Government not to sell Kiwibank.
Mr Key's speech preaching austerity and controversial policies to raise money was in stark contrast to Labour leader Phil Goff's the day before. Mr Goff promised that under a Labour government, no one would pay tax on the first $5000 of income, and he pledged not to borrow or to sell state assets to fund the move.
The two speeches foreshadowed a much bigger difference in the campaigns of National and Labour than in 2008, when Mr Key was labelled "Labour-lite" for signing up to many of his rivals' policies, including Working for Families and KiwiSaver.
Yesterday, he said the difference was clear, and at least National "had the guts" to be upfront.
He said for Mr Goff to pay for the extra $10 a week in the "no tax zone" offered, the top tax rate would have to be at least 60 per cent. Other Labour policies were also expensive, including extending paid parental leave.
While the Government's plans for new spending would be lower, the PM said, health and education would get most of it. All ministers had been asked to find further savings.
- additional reporting: Amelia Wade