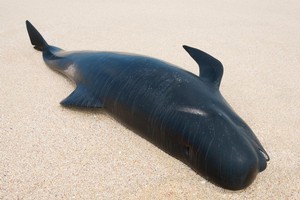 Twenty-four stranded whales discovered last week in a remote harbour near Cape Reinga have been buried on nearby farmland.
The pod of pilot whales, ranging from adults to young calves, was found scattered across 150m of mud, rocks and mangroves at Parengarenga Harbour on Friday.
Department of Conservation spokeswoman Carolyn Smith said the whales had been trapped for several tides when found and were in poor condition, with only 10 still alive.
Their location, condition, deteriorating weather and a long wait until the next high tide meant DoC staff had no choice but to put down the survivors.