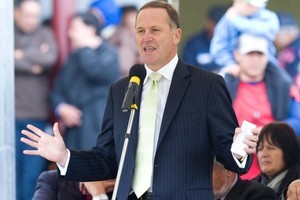 Prime Minister John Key has condemned those responsible for a suicide bomb attack at a Russian airport that left dozens dead.
At least 35 people were killed and 180 were wounded in the attack, which happened at 2.32am (NZT) today at Domodedovo Airport when a suicide bomber carrying a suitcase set off a huge explosion.
The international arrivals terminal was engulfed by smoke after the afternoon terror attack sprayed shrapnel, screws and ball bearings at passengers and workers. Hundreds of people were in the loosely guarded area at the time.
No one has claimed responsibility for the explosion.
Speaking at a post-cabinet press conference today, Mr Key said he was shocked by the attack.
"It is of huge concern that the attack on ordinary civilians was almost certainly instigated by terrorists," Mr Key said.
"Our thoughts are with all of those affected by this tragedy, and I join other leaders from around the world in condemning those responsible."
Mr Key said he had written to Russian President Dmitry Medvedev to formally express the Government's condolences.
Earlier today, Foreign Affairs Minister Murray McCully also expressed concern at the attack.
"The consequences of incidents such as these are far reaching, and are never easy to come to terms with for both citizens and governments alike."
The New Zealand Embassy in Moscow had been contacting New Zealanders registered with the ministry as being in Moscow, Mr McCully said.
There had been no reports of New Zealanders caught up in the blast.
- NZPA