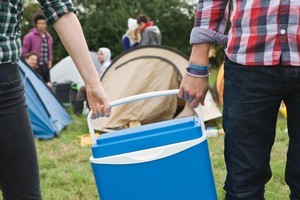 Chilly bin bandits at popular holiday spots have shown they have some heart.
Campers at Mangawhai and Pakiri, north of Auckland, have reported having food and drink stolen from chilly bins, while communal kitchens have also been targeted, police have confirmed.
Auckland's Todd family were "gutted" to find their chilly bin had been stolen from outside their tent on their first night at Mangawhai Heads Motor Camp this month.
In the morning, the family woke to find their chilly bin that was "full of our nice nibbly food like ham, yoghurt and cheese", gone.
However, Debbie Todd said the thieves had shown some conscience by removing medicine for her son's upset stomach first.
"We had medicine for my son but it was left, and we think it was in that bin," she said.
The next day, Todd celebrated her 40th birthday without the treats, worth at least $80, she had packed.
The theft dampened the family holiday, she said.
"I was gutted about the food but what worried me more was knowing there were people creeping around our tents. I got more upset as the days went by."
Todd was frustrated that campers had not been told about the thefts.
Another camper who stayed at the site, and did not wish to be named, said the owners had confirmed that there had been several thefts. He felt campers should have been warned to lock bins inside their tents.
"I don't think enough was being done," she said.
But the owner of Mangawhai Heads Motor Camp said a bigger issue was the number of items lost or left by campers during the summer, including jewellery and passports.
Police had put up notices at campsites warning holidaymakers to lock their bins inside tents.
At Pakiri Beach Holiday Park, "brazen" thieves stole at least 10 bags of food from camp kitchens in the past two weeks, said manger Teresa Foster.
"I think it's just people going through, taking opportunities," she said.
Meat was most popular in the raids, she said.