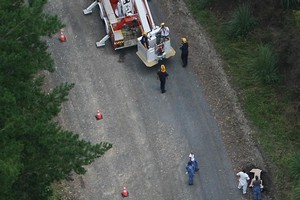 A homicide inquiry has been launched after the discovery of a burning body on an isolated rural road west of Huntly.
A post-mortem examination was carried out today on the body of a
woman who was found on fire on Thursday evening.
Police say they have established her identity, but have not yet released her name.
Detective Senior Sergeant Nigel Keall said the cause of death was a result of the fire and the case was now being treated as a homicide.
"We believe an accelerant was used to start the fire and we are awaiting the results of forensic samples taken from the scene to determine what that was."
Anyone who saw any vehicles or people on Hangapipi or Rotowaro Roads between the hours of 9-10.30pm on Thursday should contact Huntly police, he said.
"We ask that anyone who noticed anything untoward in the area,
be that any discarded items of clothing or other items, not to dismiss the item as rubbish but to make contact with the Huntly Police.
"That item may prove to be a key piece of the puzzle."
- NZHERALD STAFF