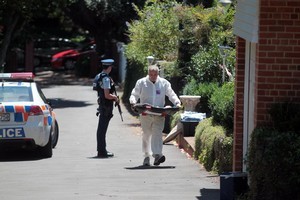 A Chinese man charged with stabbing two men to death at a multi-million dollar Auckland mansion had been threatened by the victims, police have told neighbours.
Officers going door-to-door in upmarket Stilwell Rd in the suburb of Mt Albert told neighbours that the men had turned up at the house and intimidated the 52-year-old murder accused.
One was found inside the house, the other on the driveway.
It has also emerged that the house has been the centre of controversy, with its owners served with a High Court summary judgment ordering them to pay more than $200,000 last year.
A debt collector who served the papers said there was a court case related to a failed property deal.
Yesterday, police armed with automatic weapons stood guard outside the three-storey mansion, which is on two titles thought to be worth more than $3 million. Neighbour Jennifer Brown, who lives across the street from the house's driveway, said there had been a fire in the basement two years ago, which she said was caused by a dispute between the occupants and their next-door neighbours.
"It was over trees being cut down and burned." She said the neighbours objected to trees being burned and the home owner burned the trees inside after complaints.
She also said police had been called to the property before over what appeared to be an employment dispute. "Police came and it looked like people who were employed there had a dispute with the people who owned the property."
The accused was given interim name suppression when he appeared briefly in the Auckland District Court yesterday.
The short, clean-shaven man looked at ease when he appeared in the dock flanked by a police officer. He was wearing a blue hoodie.
The names of the two victims were also suppressed.