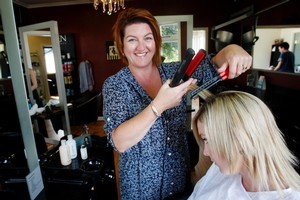 Jeanette Cork is "100 per cent" confident the hair-straightening product she introduced to New Zealand, KeraStraight, will pass all Department of Labour testing.
The product was certified in Britain as having formaldehyde levels of 0.0002 per cent or less - which is much lower than New Zealand's legal limit of 0.02 per cent.
Mrs Cork, a hairdresser who owns the Cambridge salon Capelli Studio, uses the product daily and said she had used other products which contained too much formaldehyde. They burned her chest as she breathed the fumes and hurt her eyes.
She said she researched KeraStraight thoroughly before she began using it and would not work with it if she didn't think it was safe.
She advises people against buying straightening solutions and trying them at home because it is a complex process intended for professional application.
Amber Evans, salon manager at Bettjemans in Orakei which has been using the treatments since last year, said there had been no problems for staff or clients. The product had a "tropical" smell, not a chemical smell.
"It's an amazing product, it's helped so many people. It just makes life a whole lot easier."