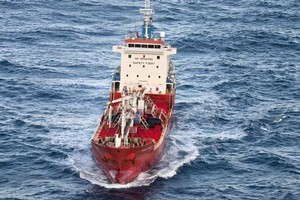 The Sea Shepherd anti-whaling group says it has intercepted a Japanese whaling supply ship in the Southern Ocean and plans to stop it delivering its cargo to the fleet's factory ship and harpoon vessels.
The Sea Shepherd ship, Gojira said, was tailing a tanker, the Panamanian-registered Sun Laurel, carrying fuel and other supplies.
Captain Paul Watson said from the Sea Shepherd ship Steve Irwin that the San Laurel was the Achilles heel of the whaling fleet. "We intend to stay on it like a bloodhound to keep this ship from delivering fuel and supplies to the whaling fleet."