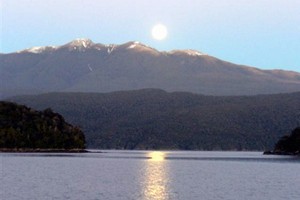 The 59-year-old Christchurch man arrested for allegedly trying to set fire to a campervan with two people in it has been charged with the attempted murder of the pair.
Police were called to a Tasman District Council reserve at Tamatea Point in Pakawau, between Collingwood and Farewell Spit, about 5.50am after a couple said someone had shot at, smashed and attempted to set fire to their campervan, Nelson Bays area commander Inspector Brian McGurk said.
Four Nelson-based members of the armed offenders squad, along with a police dog, later arrested a man at a nearby house.
The Hamilton couple, a 44-year-old male New Zealander and a 36-year-old New Zealand-residing Chinese woman, had earlier been verbally abused about freedom camping in the area and police say the attack may have been an "extreme, over-the-top reaction" to the practice.
A special court hearing was held before Judge David McKegg DCJ at the Nelson Police Station this afternoon due to the accused's
"volatile behaviour", say police.
The man was granted interim name suppression and was remanded in custody to appear again in the Nelson District Court on January 21.
Pakawau Old School House cafe owner Robbie Duncan told NZPA he knew the arrested man.
"He comes in here (the cafe) every now and again, (he) has a holiday home here," he said.
"I like him really well ... a very well-natured person."
Mr Duncan said the man's holiday home was on the reserve where the attack happened.
"They take great pride in that reserve and there's a lot of people that go and park up in there," he said.
"I don't know myself but maybe that's what might have triggered something."
Mr McGurk said the van's occupants were "petrified" but not physically injured.
He said a scene examination had nearly been completed and a long-handled slasher 1.2 metres in length was recovered at the scene.
Mr McGurk earlier said police were "reasonably confident" that no firearm was used.
All the side windows, front and rear lights and indicators of the campervan were smashed and there was a large hole punched in the passenger's door, said Mr McGurk.
Methylated spirits and turpentine were allegedly used to ignite papers and documents inside the cab of the campervan.
There is evidence of scorching on the dashboard. The fire was able to be put out by the male victim, said Mr McGurk.
Police are also seeking the occupants of a second campervan that was parked at Tamatea Point in Pakawau overnight, who left the area before the arrival of police.
Meanwhile, Labour Party tourism spokesman Kelvin Davis said attacks like this morning's are a "blot on New Zealand's tourism landscape" and called for Prime Minister John Key, as Minister of Tourism, to intervene.
He said people considering coming to New Zealand for the Rugby World Cup may be put off by reports of crime committed against tourists.
"The Minister of Tourism John Key should be working closely with local councils and tourism organisations to work on a plan to solve issues around freedom camping without damaging our tourism reputation," said Mr Kelvin.
He said educating tourists on the do's and don'ts of freedom camping as well as educating New Zealanders about how to care for tourists was imperative.
- NZPA and NZ Herald staff